How to submit an offer:
1. Access the public website at http://imaxpremier.brokerbrain.net/public. When you first log in the following screen will appear:

2. Search for the desired property by providing property information as described below, then click the Search button.
Be sure to specify the Market the property is located in.
In the Street Address field, you can search for properties that contain, start with, end with, or match exactly the address information that you provide.
In the Square Footage section, you can search either Greater or Equal, or Lesser or Equal than what you have entered.
Most of the fields will allow you to type only a portion of the information, if that is all you have. The zip code field requires the entire zip code.
3. A list of properties that match the criterion you input will appear as shown:

4. Locate the desired property from the property list. Click the dark gray bar entitled Click here to submit an offer on this property. The Formal Offer screen will display, where you will enter in the specifics of your offer. There are multiple required fields that must be completed for the system to accept the offer. See below for some important information on a few of these required fields.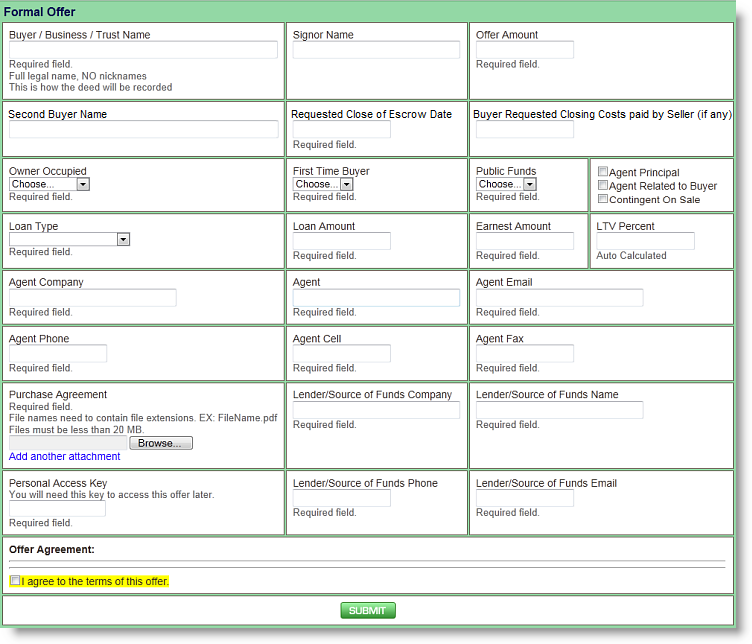 Purchase Agreement – A purchase agreement must be attached to the offer in order for it to be submitted. The agent clicks on Browse to locate the purchase agreement. If more than one document is needed, there is an option to add another attachment. The following document types are allowed: .jpg .pdf .doc .xls
Personal Access Key – The Agent that submits the offer will enter a password in this field which will grant him/her access to the offer later if any information needs to be changed. The offer can be accessed at a later date as long as the agent can remember the access key that was entered when the offer was submitted.
Offer Agreement – In order for the offer to submit, the Agent must select the option, "I agree to the terms of this offer".
5. Once the required fields are completed, click the Submit button. A screen similar to the following will appear: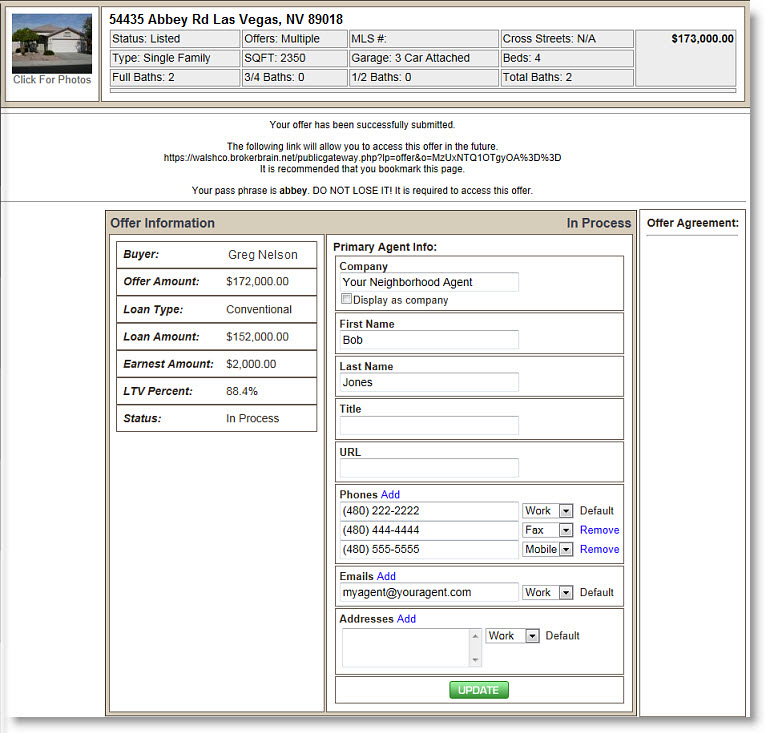 Note: It is recommended that the agent bookmark this website in their favorites.
Important:
When an offer is submitted, the offer status is shown as "In Process" (see Status section in the screen shot above) until the offer is either Accepted or Rejected in the Broker Brain system.
The only element of the offer that can be changed by the agent once it is submitted is the contact information.
Upon submission of the offer, an email will be sent to the email address provided in the offer. It will contain basic information about the offer as well as the link to get back to the offer. The pass key is not sent in the email.